"If he's comfortable at it, it's more important than whether I like him there. And he said he really likes it there. He told me that today. So you know, we'll keep doing it until something better comes along." — coach Bruce Boudreau on Quinn Hughes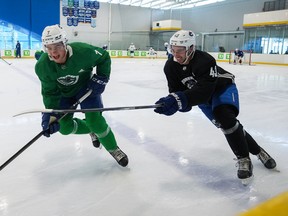 Article content
WHISTLER — After another colourful on-ice session at Meadow Park arena, here's some Friday news and notes on the Vancouver Canucks, with a defensive theme:
Article content
Hughes plays on the right
Article content
Quinn Hughes' Group C got to skate in a scrimmage for the first time and the talented blueliner remains a clear work in progress on the right side.
Hughes has been almost exclusively a left-side defenceman since being drafted by the Canucks in 2018, though he did play a little on the right while he was with the U.S. National Team Development Program.
There were several moments in Friday's scrimmage where he struggled with the different puck angles required when you're a left shot playing the right side. He also made a couple of odd defensive reads.
"If he's comfortable at it, it's more important than whether I like him there. And he said he really likes it there. He told me that today. So you know, we'll keep doing it until something better comes along," head coach Bruce Boudreau said.
Article content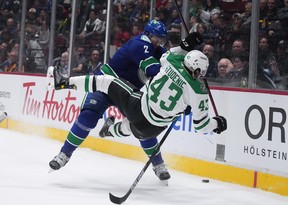 Big task for Schenn
The ever-talkative Luke Schenn could reach 3,000 career hits this season.
"You know what? Guys asked me last year when we were on the bus — I believe it was in Chicago — asked me how many career hits I had, and I had no idea. I had never even checked or thought about it. And they looked it up and told me, the 32-year-old said with a laugh.
"It'd be cool to look back on, to be right at the top, because where the game is going, there's not a lot of guys doing it the old school way," he added, with another grin.
"I think the biggest compliment is the guys that are on that list are guys that you respect and they're tough to play against.
"I don't think I'll be getting any sort of silver stick or nothing like that. You know, maybe some new shoulder pads."
Article content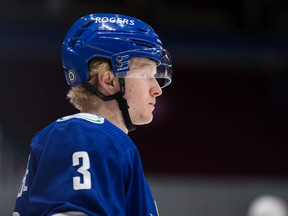 A young protégé
Schenn has been skating with Jack Rathbone in camp.
A slick, puck-moving left-shot blueliner, Rathbone had a strong second half to the season in AHL Abbotsford and has a shot at making the NHL roster this fall, according to Canucks' coaches and managers.
Schenn said they've talked a lot about how Rathbone, 23, can force the coaches to keep him around. Rathbone can clearly move the puck smartly, but the rest of his game will make the difference.
"I think the big thing is you want to continue to defend hard and take care of the front of the net and shut down plays. You know Quinn (Hughes) does a heck of a job running the power play, so you've got to find other ways to contribute and earn your way onto the lineup," Schenn said.
Article content
"Schenner makes life easy on me," Rathbone said.
"We're definitely two different ends of spectrum just in terms of how we play, but I think that makes for a good pair. I read well off him and honestly I'm just trying to be all ears and a little bit of a sponge when it comes to anything that he has to add to my game," he added.
"I like the way he comes to the rink every day. He's ready to work and he's a consummate pro. He's a guy that has kind of the blueprint for how I want to come to the rink every day, and try and bring (that) consistency. That's how you play for a long time and that's what he's been doing."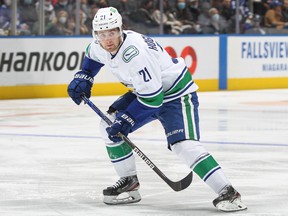 Hoglander making his mark
Boudreau said he's very pleased with what he's seen from Nils Hoglander, who has been skating with a pair of likely AHLers in Nils Aman and Linus Karlsson.
Article content
"I think he's the best player on the ice right now," Boudreau said, with emphasis. "He looks so much faster than he did last year. Determination. He's definitely ready. And you know, I think last year was a little bit of a setback for him. He doesn't want it to happen again."
"Hopefully he learned a lot last year. He's going to be another one playing a lot of pre-season games, and we'll see how it goes. But I certainly have liked exactly what he's shown. And let's call it like it is, it's been two days. I mean a lot of guys can look great in two days. Let's see how they look in 10 days."
Hoglander, for his part, said he's happy with his performance, especially coming off groin surgery.
He started skating midsummer, later than he might usually have, but he was pleased with how he's feeling.
"I had a good summer. A lot of work. I've done a lot of rehab … so I'm ready for this camp," he said.
He's well aware that he's in a positional fight, with the team having added four forwards to the NHL mix in Ilya Mikheyev, Andrey Kuzmenko, Curtis Lazar and Dakota Joshua.
"It's a tough spot to take but I'm excited for it and I'm ready to," he said.